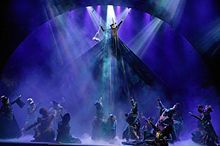 DEFYING GRAVITY
Something has changed within me
Something is not the same
I'm through with playing by the rules
Of someone else's game
Too late for second guessing
Too late to go back to sleep
It's time to trust my instincts
Close my eyes and leap
It's time to try
Defying gravity
I think I'll try
Defying gravity
And you can't pull me down
I'm through accepting limits
Cuz someone says they're so
Some things I cannot change
But till I try, I'll never know
THIS WEEKEND I SAW WICKED FOR THE THIRD TIME. IT IS SUCH AN UPLIFTING AND INSPIRING MUSICAL. FOR THOSE OF YOU WHO ARE NOT FAMILIAR WITH THE MUSICAL, IT'S THE "REAL STORY" OF ELPHEBA, THE WICKED WITCH OF THE WEST FROM THE WIZARD OF OZ. IT SHOWS THE RELATIONSHIP BETWEEN HER AND AND GLINDA, THE GOOD WITCH.
IT'S ALL ABOUT LEARNING TO ACCEPT WHO YOU ARE, ESPECIALLY FOR ELPHEBA. I'VE INCLUDED THE FIRST VERSE, THE CHORUS, AND PART OF THE SECOND VERSE OF THE SONG DEFYING GRAVITY WHICH REALLY CAPTURES THE SPIRIT OF THE PLAY.
IT'S ALSO WHAT WE ARE ALL ABOUT ON OUR JOURNEY WITH SPARK PEOPLE. WE'RE LEARNING TO OVERCOME OUR OWN LIMITS TO BE THE BEST PEOPLE WE CAN BE.