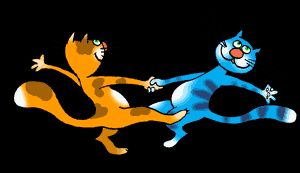 I feel like the Energizer Bunny the past two days. It feels like I've been going and going. Yesterday I started the day cleaning snow off my car. I went to do my volunteer tutoring but the person I tutor didn't show up because of the snow. I stayed for about an hour and left. I had to drop off some reverse raffle tickets for one of the boards I am on major fundraiser. I then stopped to pick up a few things at the grocery store. I came home to get a few packages ready to mail to the post office, then headed to the town where I work out with my personal trainer, about 25 miles away. I took my packages to the post office there. I also tried to check to see what happened to the package I sent Kelly on 2/8/ They said it can take a while for things to reach Iraq, although my first package reached her in about 10 days.
When I got to the studio I warmed up with 20 min on the bike followed by a strenuous work out with my trainer. He then helped me with some deep stretches.
I got home and started shoveling snow and then got dinner ready.
Yesterday was one of my niece's birthdays. I called her home in Long Island. I spoke to my Sister in law. She had sent a package to Kelly that she did recieve. I found out she had mailed it only a few days before I had mailed mine. Hopefully Kelly will get her package soon. I then spoke to my niece.
I got a call back from my son in law. I had called to see how he was doing. He recently was transferred to the Army base in Augusta, GA where my daughter has been stationed.
Shortly after I got finished talking to him, I got a call from my daughter. For some reason my sil feels he needs to let my daughter know when I call him. He called her at 2 am Iraq time. Since she was already awake she decided to call me. I guess he wasn't thinking of the time difference when he called her. She has been working 13 hour days and needs her sleep, although I was happy to hear from her. I learned that on the base where she's staying, she has to walk for about 5 minutes to get to the restrooms and showers. It really makes you appreciate having a restroom right next to my bedroom.
My husband stayed home today. We bought a new TV on Sunday and have been busy playing TV musical chairs. We put together a new TV stand for our family room as we needed a stronger one than the one we had for the TV we were moving into that room. We moved our 32 inch standard TV to this new stand. This TV weighs about 170 pounds so we had to be very careful when moving it. (It's been on a dresser in our bedroom.) We also had to move the old TV our of the way. Following that we had a quick meal so we could start shovelling more snow. We had about 12 inch drifts near our door.
I then took our fairly new printer to Best Buy to see if they could fix it. Since it was under warranty they just replaced it. My hubby had to reprogram my computer so I could access it wirelessly. Earlier today my computer was freezing up. Luckily we still had one I could use down in our basement as I had to write a description up for the basket I'm preparing for our fund raiser. I ended up having to do it twice as I lost what I'd been preparing on my computer. We had a meeting for this fund raiser tonight.
I still have too many programs on my computer that are slowing it down. My hubby is trying to see what's causing the problem but it may take a few days for him to ger rid of stuff. Unfortunately I'm not very good at troubleshooting computer problems.
After all the exercising, snow shovelling and lifting TV's, I'm really sore. I did some stretches to try to loosen up my muscles and took an Ibuprofin. Tomorrow I am scheduled for another training seesion. I hope I'm in shape for it.