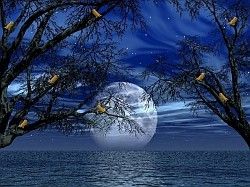 When I was 6, my first pet, a fluffy longhair black and white kitten I named Gilligan because of his crazy antics and because I loved the Gilligan of Gilligan's Island way back when. He loved to jump in and take a bath with me, and we
would play hide and seek. I swear he would lay with his paws over his eyes as I counted and found a hiding place. When I stopped counting he would come to find me. So much fun I had with him.
The beach. Again when I was 5 I would go there and spend my days collecting shells and treasures that would wash up after storms, bugging the lifeguard and learning how to fish. I used to catch the crabs that would drop on the pier off the baited hooks of poles and give them to crabbers. I went so often everyone knew me and taught me all the finesse and etiqutte of a proper fisherman...I never did throw a net to well though...I didn't like putting it in my mouth.
Laying in my hammock singing to the stars at night under the huge magnolia tree with vines of wisteria growing on it as thick as a man's thigh.
My Mother's incredible stamina and adaptability.
My first boyfriend. Our first kiss.
My first Disney movie Herbie The Love Bug.
Tiny Tim (I was only 6! lol), Tom Jones, Elvis Presely and Luciano Pavarotti
Horseback riding
Bobby Goldsboro I was only 8 then so you know...lol
God - I always loved Him but then I learned Him and when I was 13 asked Jesus into my heart and life. Nothing can ever compare to that feeling.
My poetry. I wrote my signiature poem Like Diamonds In Moonlight when I was 17 at 2 a.m. on the beach looking up at the stars.
Each beautiful cat that owned me, all my spectacular friends I have, my beloved cousin who passed away last year from cancer.
Every aspect of the beauty of Nature in all her persona's. I have always been attuned to the elements and just come alive during storms.
Music always, everything but rap, or harsh rock of any genre.
Anything pure, holy or beautiful.
The power of love and forgiveness!
Will you share what has captivated your heart, now or in the past? :)
((((Hugss!))))