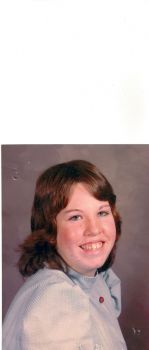 Since I'm going to be telling a bit about me when I was 12 and 13 I thought I'd share a picture with you of me at that age. Looks like the tweeze monster got ahold of my eyebrows doesn't it? LOL.
I go to my doctor today to have her examine me and make an appointment with a GI specialist about the painful hardening and bulking of my lower abdomen. I get to endure the agony of much poking and prodding, but it's worth it to find out what I have wrong with.
I did good yesterday, I kept well within my calories, my allowance is 2190 and I consumed 1936 so way to go me. I drank 152 oz. of water and did my exercises and made as much contact with my groups as I could. Eventually I'll get to my teams pages...lol...why does this take so much time? Wouldn't it be awesome if we could do all this telepathically while we're eating and exercising? Today is a brand new day and I'm going to do the best I can. Meanwhile, enjoy the rest of my meandering blog, the Computer Wife is so me, with exceptions and I waxed nostalgic as my mind took me back to a simpler time and place and where if certain things hadn't occurred in my life I might miss more. I can see all the potential I had then, now, but you know what they say about hindsight being 20/20...lol. I did okay anyway.
Computer Wife
Dear Wife,
I'm sending you this email, to bring you up to date on the events of our family!
I tried to talk to you, While you were on your computer, But you just kept telling me that, You would BRB...?? Whatever that means! So, I decided to send you this email.
John Jr. cut his first tooth today. He's the one you bounce on your knee while typing. Remember how he giggles when... He hears the "UT OH" sound?
Sorry about him dropping his Peanut butter sandwich on your keyboard. Is it working ok since I cleaned it up for you? Can you read the letters I tried to paint back on your keyboard? Most of the letters had been rubbed off!
Susie had her first date Saturday night. She had a good time and said to thank you for letting them use your car. She put the keys back on the key rack, underneath the cobwebs, where she found them!
Do you realize that she wears the same size clothes as you do? In case you've forgotten her, she's the one who has you raise your feet when she's running the sweeper.
Tim is playing football. He looks forward to going to school Now that he has a sport to play. He wanted to know if you would come to one of his games... if... we bought you a laptop to bring along?
Do you remember him? He's the one who... empties your Port-a-Potty for you!
Let's see... since the last time I wrote you... ( 3 months ago ), the refrigerator had to be replaced, The dog died from old age, your mother and dad painted the room, where your computer is... hope you like the color! The church has a new pastor, the president has been impeached, and oh yes... and I have a new job!
Well, I think that's about it. I'll email you again in about 3 months. You take care of yourself, honey. We all miss you very much, and look forward to seeing you again... next time... the power goes off! : ))
Love,
Your Husband
I thought this was hysterical. Take out the kids and the port-a-potty and you have....me.
My life revolves around my computer. I do shopping, online banking, my friends are all online, ebooks, my poetry and the very vital Sparkpeople and the few groups that I'm really active in...why if I didn't make myself, I'd never leave it because I'm never done...lol. Thank God for the Sabbath, and my Sunday's with hubby, and the spa. Otherwise I might meld with my chair as my feet swell to the size of small redwoods, and about the same color I surmise.
At least I don't have an IPOD...but I secretly want one to go walking with. I remember when I was just a pre pubescent giggly girl who would take her bright yellow, groovy circle shaped transistor radio that could twist apart to then encircle my handle bars and I would bike all around my subdivision singing songs like, Wild Fire, and Billy Don't Be A Hero, Ode To Billy Joe, Black Magic Woman, Pretty Woman, Don't It Make My Brown Eyes Blue and my all time favorite back then, Oh Lord Won't You Buy Me A Mecedes Benz...(they never played Dead Man's Curve by Jan and Dean, that was my favorite house song...lol.) Up until then I'd always listened to big bands, swing, classical, jazz, and blues...once I had my own radio and discovered the joy and diversity of FM's rock and roll and Elvis, I was in Pami hog heaven. I would delightedly change to country and listen to all those wonderful love done gone wrong songs. Music sure has changed. I never would have thought that I would agree in retrospect with my mother who thought The Beatles were terrible, and Elvis shook hands like a dead fish...yes she met him, and didn't even like him. Yet the heart and soul has gone out of the songs today, they pump them out all commercialized and then there are the harsher, violent, truly abominable gangsta rap and I have a new perspective on her point of view back then. I like some of the music today, but I LOVED the music of the 1800 hundreds to 1990's. Sorry Mama, I still love Elvis and I still love the intricate and diverse melodies of the Beatles, but now I know what you meant. Her peculiar phrase haunts me to this day...just exactly how does a dead fish shake hands?
Love, hugs and blessings to you all! Hope I made you laugh. :)