My Pool Workout---Upgrade!!!
Monday, April 07, 2008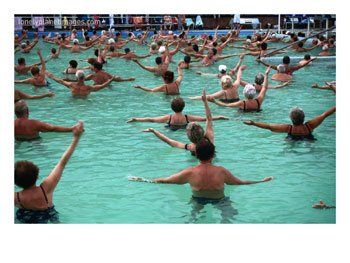 Somehow I took a fullblown aerobics acqua class this evening...woooWheee let me tell you what!!! I thought I was doing my fibromyalgia class, nope, huh uh, I was wrong...
However...I didn't quit. I did almost everything and got the best cardio workout I've had in years...holy moley yes! Plus we worked the whole body and did some strenght training too...woohoo! I'm going to do this class twice a week! Tomorrow evening I go in for my fibromyalgia class..that is if I can walk. But you know what? I'm so proud that I did it, and I made a new friend, a pool and class buddy, and I'm going to send her the info on this site too. Everyone was shocked that I hadn't done it before and didn't know I was in the wrong class, so that really stroked the geriatric ego quite a bit...you could say I was glowing!!!
I am down to 433 pounds!!! That's 17 pounds since February and I am overjoyed!!! Now that I'm going to be going to my classes regularly and not just doing my own exercise routine, I should see some great things in the furture...like being able to climb the stairs to the gym above and really get some toning and weights in too. Hot diggums!!!
I'm jumpin' for joy...in the water...lol :-D