A Very Happy Hump Day! :^D
Wednesday, April 16, 2008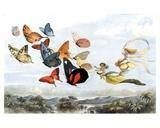 The only thing that would make this day better is if I'd reached my complete weight loss goal. I may just decide to eat like this every day. Very tasty, filling, and completely satisfying and no cooking or cleanup! Heaven. The only problem is the sodium in the Subway sandwiches...lol. I may have to learn how to make them myself and cut out all but the salt that bread has in it.
In my day I made time to do 4 fun things I rarely have time to do anymore. I read some of my friends poetry in all the collection of books I have. I went outside with my husband and our furpurrs and just enjoyed them and the beautiful sun and the breeze making the leaves sing and I sank my teeth into a luscious Subway Sandwich...mmmmmmmmmm Ecstasy! Then put on some light classical and did absolutely nothing for about 30 minutes...that's almost unheard of for me to do..it's a wonder the Earth didn't stop on it's perpetual spin cycle!
I go now to prepare for my date with my aquaciser! See ya tomorrow!








4/16
Breakfast:
1 small banana
1 lg orange
wedge of cantaloupe
cup of seedless grapes
small apple
cup of sliced strawberries
Lunch: Subway Veggie Delite (Delicious AND nutritious!)
Lettuce
bell peppers
cucumbers
zucchini
black olives
tomatoes
Daily goal on... DONE
Water: 96 - 125 ounces
Fresh Fruit: 5 servings
Fresh Veggies: 5 servings
3 stretches
2/25 squats
40 crunches
Walking: 30 minutes
6:30 pm 7:30pm
Workout at spa
Walking: 30 minutes
Dinner: Subway roasted chicken sandwich 12"
Calorie allowance: 1740-2090
Intake for day: 1820