I DID IT!!! I Started A New Group Today! Come See!
Tuesday, April 22, 2008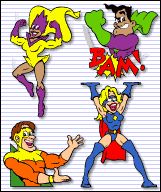 I'm soooo excited and I want to see ALL my friends join and make this an AWESOME group, an ELITE group of members that are eager participants in H.E.R.O.E.S, Helping Everyone Rise, Overcome Everyday Situations.
I designed this group for many reasons. A group to have FUN in, get motivated in and stay motivated in. My group will only be as good as the members who join, fortunately all my friends are exceptional in every way so I can say that my group has the potential to be one of the high ranking groups on the site. I have tried to put a little of everything up as much as the program would allow and am open to all suggestions and ideas.
Co-Leaders:
I had a lot of offers to be a Co-Leader in my group yesterday, so this is what I want everyone who wants to be my co-leaders to do. By using the URL below, or the group icon on my sparkpage, join my team and go to the topic thread callled; "I want to be Pami's Co-Leader. I will except my first 2 co-leaders from that board.
I hope you will all join and make this team a super supportive and highly effective one!
LET'S MAKE IT HAPPEN TOGETHER!
CLICK HERE TO COME AND JOIN!
www.sparkpeople.com/mysp
ark/groups_individual.asp?
gid=21168