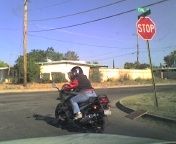 Tuesday, April 29, 2008
Today was my first day getting my bike back and riding it to work. I admit, I'm still a new rider and SCARED to death to be out riding in public, but I figure, my commute to work has all the stops, turns and starts needed to enhance my skills so what better way to be a good rider than to go a route I'm familiar with, early in the morning, 15 minutes each way. Like everything I do, it's one little baby step at a time. So off I went to work on my Ninja.
Before I rode, as every time I get on my bike, I prayed for God's merciful hand of protection. I truly hope I never forget or feel too comfortable, to pray for God's hand upon me before I ride. For now and forever more, I want God to get all the glory for keeping me safe out there.
I made sure I left my house WAY early so as to avoid the other motorists. It was surprising to see that there weren't really that less of cars on the road at 6:50 am as opposed to 7:25. But I was sooo nervous and literally shaking for fear of messing up. I wasn't as afraid to crash as I was of messing up and getting so nervous that I'd do something stupid like forget to brake or skid outta control, ya know? It was cold on my hands because I don't have gloves yet, but it was tolerable and I was thankful for that. The stops where I have to turn onto another street were especially scary for me cause it was a place where EVERYBODY was going to see me and if I messed up, it would be like forgetting your lines on stage. Really embarrasing. I have, between my house and my work, 7 potential stops and I stalled out at two of them. One was because I was really nervous and the other because I was REEEEEAAALLLLLYYY nervous. (Although embarrasing, I find some relief in knowing that in my big thick jacket, dark black helmet and smaller frame, I don't look too much like a girl so the motorists who had to wait on me to turn might have thought that I was just a dumb boy trying to learn to ride his new motorcycle. HAHAHAHA.) I'm still getting used to the gears, too so that doesn't help matters any. I can't tell if I should be in 3rd, 4th or what gear I should be in. For that matter, it's hard to remember what gear I'm IN so THAT will take some work as well. But once I made it to Ajo way, where it's just a clear shot to my work, I did fine. I'm still afraid to park my bike where everybody else parks their bikes cause I'm still such a nervous wreck on my bike so until I'm more comfortable, I think I'll park out under my usual little tree. It offers shade and a straight shot from my parking spot to the exit.
I'm nervous and thankful for the bike and the opportunity to ride it and I know my King Jesus is MORE than faithful to taking care of me out on the road. Still, this new thing, like all of my fear defying, shaking in my boots, never tried before adventures, is fearful, but I'm learning that fear keeps us immobilized but Jesus Christ sets us free from these fears. One day, he showed me an analogy of my fears. Fears that I had, that would literally keep me from enjoying life like He had intended, were all written on a piece of paper and Jesus would take the papers, one fear at a time, and wad it up in a tiiiiiny little ball and using his index finger he'd "flick" it away like it was nothing to Him..."FLICK!" And every fear I'd bring to Him, he'd just wad it up and FLICK it away. Two years ago, losing 100 pounds (FLICK), going up and meeting new people (FLICK), hiking Sabino Canyon alone (FLICK), learning to take control of my finances (FLICK) and riding a motorcycle (FLICK) would have been unheard of for a fat girl like me. But as I learned to trust Him with these fears, He showed me that he is more than able to take care of me AND my immobilizing fears. And to ME, they were so overwhelming I couldn't handle them, but to HIM, they were no more difficult than flicking a tiny piece of paper off of his palm.
If you're reading this and you have fears that are HUGE to you and you just can't seem to overcome the grip they have on your life, than I want you to know you don't have to conquer them alone. Or if you feel helpless or hopeless, like there's no hope left for you, I want you to know, you don't have to accept that lie. There IS hope and you CAN overcome your fears. There is a God who created you and who loves you more passionately than you are capable of loving another creature and He alone, has power to overcome these fears and help you do that which you believe is impossible. His name is Jesus Christ. Write me if you're interested in finding out more about this wonderful fear resistant, hope giving God. I'd love to pray for you.
Til next time!
sharon