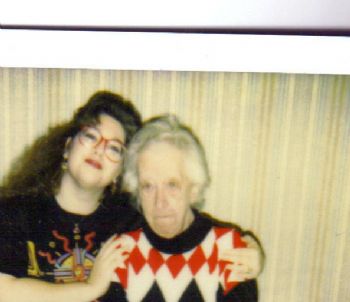 This time of year is hard for me...I lost my mother to cancer in 1996 and I was unable to have children of my own...
I think of all the wonderful times Mama and I had and all the things that she did for me. She had me late in life, was 43 the day I popped out at 10.6 ounces from her petite 5'2 body.
Relationships here on Earth aren't perfect ever, and we had a difficult one at the best of time, but we also had the richest kind of love for each other and man, she was awesome! There was NOTHING that Mary Jane couldn't do when she put her mind to it. The woman was a powerhouse of talent, skill, endurance, and intensely private, even with me. She rarely spoke of her past or of my family which was long passed away when I came along, but she made up for it in how she loved me.
Even when she got colon and breast cancer at the same time she was a fighter. She fought for 8 years and constantly amazed the oncologist caring for her.
I miss her. I miss her every single day, but I miss her most of all on Mother's Day and her birthday when we would spend very special time together. In honor of her memory, of her tenacity and her awesome will power, and the love she spent her life giving to me alone in spite of all adversity, I set a goal this weekend to lose and dedicate to her, the loss of 50 pounds by the end of this year. That would have made her so happy. It would have made her proud. But not as proud as I was to have her for a mother. I was with her up to the end, and never in our lives did a day pass we didn't tell each other we loved each other.
Dearest Mother
You gave me life
Life rich in love
Love full of miracles
Miracles that you made
Made and gave to me daily
Daily with a Mother's strength
Strength you passed on
On to me, along with wisdom
Wisdom to continue your legacy
Legacy of love, sacrifice and pride
Pride in traditional values
Values that keep me strong
Strong enough to achieve
Achieve all you wanted in my life, alive
Alive, as you are still, in my heart
Heart of love, shaped by you
You, who gave me life
Life, full of God's sweet miracles.
HAPPY MOTHER'S DAY