Back in the Groove
Saturday, May 31, 2008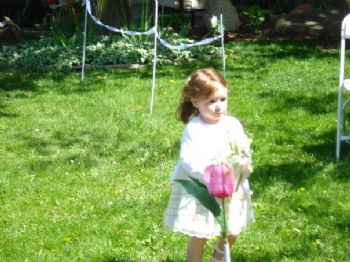 Finally a chance to sit down and breathe. I've been trying to write this blog for a week now. The past week and a half have been crazy and I haven't had a chance to get on here much . I didn't even have time to log most of my exercise and food last week. It was weird to go running and then not log it, almost like it didn't count or something.

But I'm back now and it feels good!
I spent everyday last week helping my parents get ready for my brother's wedding. The ceremony was at their house, which is a gorgeous old stone house out in the country. I did everything from cleaning windows, to chopping down trees. The wedding was beautiful. My little girl was flower girl and she did pretty well considering how shy she is. She went down the aisle with a huge pout on, but she walked the whole way down and didn't cry so I was happy. The whole day was like deja vu for me since I also got married at my parents and it was even the same minister performing the ceremony. It was a fun day, but I'm glad it's over since being in a wedding takes up a lot of time and money. I'm not sure if I'll ever get to wear my $250 dress again so maybe I should start using it as workout attire to get my money's worth.

The other thing that has been keeping me busy is selling our house. I've been working hard for the past couple months getting it ready to sell by painting, fixing things, and some minor renovations. We had the real estate agent come in on Tuesday night to do an appraisal and we listed it that night. The next day we had 5 different showings and an offer by noon. That night we met with the agent so she could present the offer. We signed it back and the buyer accepted and an hour later we'd sold our house. I still can't believe that it sold in 24 hours. What a huge relief! The whole house thing had been stressing me out for months and even more so once it was listed since it's impossible to live in a state of perpetual clean with a two year old. Now comes the hard part though. My husband is moving to Saskatchewan where he will live for 6 months while he trains for his new job while I get to see what it's like to be a single parent. I'm not looking forward to this at all, but I have to look at it as just something to get through. At the top of my list of concerns is how this will affect my exercise routine, and specifically my running. I hate the jogging stroller so much, but I guess if that's what has to be done I'll do it. I'm trying not to get too worked up about it now since there's no point worrying about it until I have to. I ordered a new tae bo dvd yesterday so I'll have more at home options. It kind of seems silly worrying about my fitness routine when there are so many other things to worry about, but that's just me.
In other fitness related news, stress seems to be good for me since I'm down a pound. I don't know if it will stick though. I've been rethinking my goal weight again lately and just thinking of settling at this weight. I just realized I've lost 45 pounds now. That's crazy! That's like losing the equivalent of 2 two year olds (if they weigh what my daughter does). I definitely don't need to lose any more weight, but my worry is if I switch to maintenance instead of going for those last 2 pounds, that I will get lazy and complacent with eating and exercising. Most likely not since I've definitely made a lifestyle change, but it's still a worry. Now that it's almost June it's time to come up with some new goals to keep me pumped. I'm thinking possibly another round of Making the Cut…..