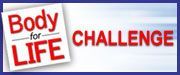 Tomorrow's the day I start my Body For Life Challenge!!
I spent part of the day today making sure my workout area was all set up, my meals were planned and ready, and my mind was in the right place.
I actually cannot wait to get up in the morning and work out!
And as of today I have 5 days SMOKE FREE!!
There have only been a FEW times that I have even THOUGHT about it!! I guess I'm so focused on this challenge and my goals ahead that I'm not allowing ANYTHING into my mind that could set me off course.
When I think of something I want, say a piece of cake, or a smoke I say to myself...Do you want that cake, or do you want a thin, sexy, healthy body?
Which one do YOU think wins??
I've just started applying that same mantra to everything.
That unhealthy food or awesome body?
That smoke or awesome body?
That extra hour of sleep or the awesome body?
That beer or the awesome body?
It's worked every time for me since I started using it..Try it yourself!!
I guarantee that if you weigh your options in much the same manner you will always make the right choice.
Here are a few quotes I found this week..
"Obstacles are those frightening things that become visible when we take our eyes off our goals."
- Henry Ford
"Nothing can stop the man with the right mental attitude from achieving his goal, nothing on earth can help the man with the wrong attitude"
- Thomas Jefferson