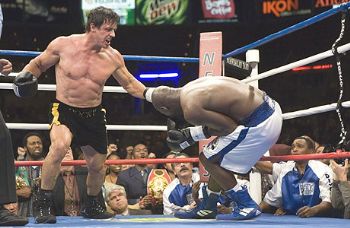 I'm back in the ring and fighting again. As a Rocky fan from the first (I fought against seeing this movie, but I was forced and so glad of it!) and I've certainly gone some rounds, and while I've yet to win, my coaches have once again reignited the fire of determination to train up and go the distance this time. This will be very hard work, more than I'm used to so it will be interesting to see just what surprises are in store.
Will I make the grade and go the distance? Or will I be a KO? Only time will tell. I pray my bones can withstand the punishment.
To all my friends, I promise I will stop or ease up if my body tells me to.
Rocky Balboa: Go The Distance challenge is doing this for 7 days a week for the full month. I will not do this during the 24 hour holy Sabbath, so that means I'll have to work in extra in 6 days.
700 hundred sqauts, 700 wall push ups, 700 hip flexors and 7 miles a week. I have to be careful with the squats due to my knees, and I can only walk a mile in the pool, but the others are doable and if I can't do the squats, I'll substitute them with another exercise.
I will break this down to 4/25 each day, and try to get to the pool 5 days a week and walk 1.5 mile's each day and pray that I can go a month without a flare up of the fibro.
I will also try to blog this everyday. One of the ladies doing this challenge wants to go to Philly one day and actually run up the steps just like Sylvester Stallone did as Rocky. I can't say that I want to go that far -- I'll just be happy with weight loss and a new fabulous wardrobe in the future, and the health to get some camping and kayaking in!
Round one starts tomorrow. I hope I get some fans to support me through this grueling 31 day fight!
Yo! Adrienne! LOL