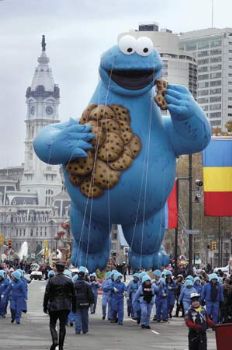 It's day 7 of me starting my program over. I've slowed down to a more realistic pace, but I'm doing really well in my eating. I'm really proud of me for sticking to this so long and making the good changes, into new good for me habits. And I'm lovin' the loss of 30 pounds!
It's been 2 months since I binged. I plan on making that a steppingstone into a healthy way of living where there will never again be a binge moment.
People, things, pets, books, all the things we love and hate march adroitly in and out of our lives, and every single one of them have an effect on us, impact our lives in some minor or major ways. A parade of tiny moments that often build into big events.
See Cookie Monster up there clutching all those cookies? That was me. Cookies, and pizza, cheeseburgers, fries, shakes and of course deep southern style country fried chicken. There is nothing on this planet I love more then right fried chicken. Maybe steak...nope, close runner up, but it's fried chicken. Oh and ham, I used to love ham and pork roast, mmmm... I could eat a whole ham by myself if I ever let myself. Needless to say pork has been deleted from my menu...as well as fried chicken...and all the rest of the tasty mouthwatering poison.
To say I don't miss it would be the worst kind of lie, because I'd be lying to myself. But I can say no to it now. Finally after all these years of going all day without eating unless I was binging, only to come home after work, eat something that would later cause my heart attack and go to bed, I can be free of the cookie monster in me. I have learned here at SparkPeople the tools it takes to live a truly healthy life and how to apply them daily. I have been educated and touched by not only their articles, but by the experiences of those who have succeeded and are now here for we, who want to succeed, and by the stories of those, like me, still struggling.
I've lost my mother, my beloved cousin, my aunt and my best friend. I've had another accept me as her daughter, and I've made some lifelong friends that will be with me in and outside of SparkPeople. Everything touches me, changes me, molds and defines who I am becoming.
None of us know when life will end. We only know that it will. I love what I am doing in my life, and helping to encourage others. I feel useful and happy. Something that was missing from my life since...oh since forever. If I could give everyone anything at all, it would be the peace and joy that have come into my life since I began this long trip back to health and being fit and the confidence that is building in me along with the determination to keep focused everyday without fail.
Life is a parade of happenings and events....they all have the ability to build us up or tear us down, according to the power we give them. This humble, grateful Sparker will never again feed negativity into my life. I have made myself the master of what I eat, how and when, and I'm doing the same thing with my choices. I choose to be fit. I choose to be healthy. I choose to be happy and positive. I choose fun over misery. I choose the life God wants me to have.
I choose to live.
Life is all about the choices we make. Depression, despair, feelings of worthlessness and hidden anger and resentments were parading around in my life, leading me to a circus of defeat. I kicked them to the curb and got a whole new act together.
Now, I'm my own parade and I like where I'm heading!
What's parading around in your life?