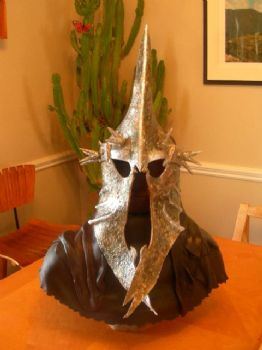 As I reflect on my favorite movie and book of all time "The Lords of The Ring" by J.R.R. Tolkien, last night it came to me that I have been in denial for most of my life, and I hate to admit it, I mean really hate it. I think what I hate the most is that I covered it up and pushed it down and never faced it, and it's a constant nag. It is my Bane. Aragorn knew that the ring was his bane and he had the strength to walk away from it, where Isildure could not and it lead to his undoing. Look what it turned Smeagol into, and Bilbo, poor Bilbo, he was spared his life, but did he really recover? And as we took the journey with Frodo, the burden of the ring got heavier and heavier, and when the temptation came to put on the ring, it brought something more horrible more terrible to him, the Nazgul, and if it found him, you know what would have happened after that (If you don't get the book!)
Well right now I feel like Frodo, I am carrying around this burden of being in denial and not acknowledging my weakness. And I know the first step to conquering your weakness is in facing it and acknowledging it.
So I have decided to rid myself of it today and let out all , all of my weakness, right here, right now.
Here we go
*I have always felt ugly and fat
*I dislike my legs
*I'm afraid that I won't lose weight
*I hate waking up early in the morning
*I'm lazy and hate to clean my room or house for that matter
*I have almost no discipline
*I can't bake a cake without tasting it
*I always lick the cake batter out of the bowl
*The same with buttercream
*I don't pray enough
*I don't read my scriptures enough
*I watch too much TV - (I did not watch TV yesterday though!)
*I still hate my stepmother
*Still angry at my dad for marring her
*Jealous of my sisters that they are so skinny
*Wish I pursued my dancing career
*I'm an emotional eater
*And I really don't like to workout
*Afraid if I do lose weight I will gain it back again
Done, I got it all out.. well... with what I can remember for the moment, but I'm done with whatever that stuff is too! Just read that list again, and as you read it place a mental check mark next to each one and say Maria's DONE! The ring fell into the fire's of mount doom Done! I FEEL GOOD DONE! Will be taking back my jeans from my daughter soon Done!
Ooh I forgot to mention the picture above is of a Nazgul witch king cake I made for my Hubby on his birthday this year, he too is a LOTR and anything Tolkien fanatic, I don't know whose worse!