You can have your cake and...
Thursday, July 31, 2008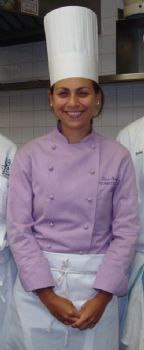 Look Fabulous To!!!! This my friends is living proof that you can be an amazing cake designer and still be cute and skinny. Elisa Strauss who is one of my Cake American Idols is my motivational picture today, not because her of her cakes, ( they are awesome but I intend to surpass her skills one day, but that's for another forum) but because even though she is probably surrounded by cakes all day, and not your regular $12 local grocery store cakes folks, we are talk decadent, luscious chocolate cakes, intoxicating lemon cakes, sinful red velvet cakes, and lets not even go there with the buttercreams! Swiss Meringue Buttercreams! need I say more. Anyhow the point is she sleeps, eats and dreams cakes 24/7, and look at her... just look how gorgeous, and my skinny idol today!
If you want to check out her cake go to
www.confetticakes.com
she has amazing skills just so friggin talented.
But look out Elisa one day you may be challenging me in all my skinniness on Food Network and you better bring something more than that sock monkey cake!