Aqua Yoga
Friday, August 29, 2008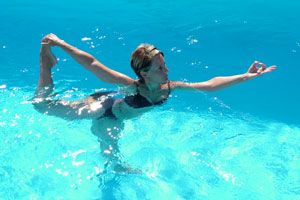 I'm back on my game again. Did strength training last night and went to aqua yoga during the day.
What, you ask, is aqua yoga? It's, um, yoga in the water. Weird, huh? Do you picture drowning during Downward Facing Dog? Yeah, me too...and since I need my glasses to see the instructor, I was afraid what would happen if I had to put my face in the water. But no. While you do variations on the head down poses, the ones I liked best were the balance poses--eagle, tree--that I loved doing in the support of the water. I could also do some poses that are hard for me because of the lack of curve in my back (chair, for example) very easily in the water.
I didn't feel like it was as hard a workout as a land yoga class, but I did find it relaxing and beneficial for my spasming muscles. The woman who went with me really felt the workout, though, so maybe that's a good sign for my current fitness level. I'd recommend it for anyone who is taking exercise baby steps, has issues with their back or other physical problems. It would also be great for anyone who needs a more relaxing form of exercise as a switch from more intense workouts. I think I'm going to keep doing it every week, so I'll let you know if it ramps up over time.
And good news! I'm down 2 pounds this week!