Body image
Thursday, September 11, 2008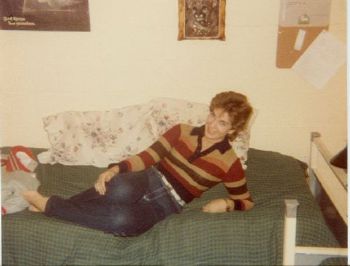 When I posted that picture of myself in 1982, I did it with two purposes. That was me when I weighed my goal weight. Despite the hair, I think I looked pretty good. So it's a reminder of how good I can look (plus 20+ years, so probably not quite so good!).
But it's also a lesson to the young women out there. Does that woman in my 1982 picture look fat to you? I certainly thought I was. I wanted to weigh 105--at least 20 pounds less than what I weighed at that time. 105 is the bottom of "healthy" range for me, but I don't need to be at the bottom of the range. I have (big) breasts; I have curvy hips; I have muscular legs. All these things weigh something, and I don't want to lose them. I didn't have to be stick thin then and I don't have to be stick thin now. I need to be healthy. And I'm working on that.
So, if you're living in the middle of your healthy range, stop scale-watching. Check every now and then to make sure you haven't gained, but enjoy what you have! Be healthy, exercise, eat whole foods. But getting all in a tizzy about the scale when you don't need to be is silly. Besides, when you starve yourself to get down to those bottom numbers, later on, when you get to be my age, you discover that the pounds don't come off as easily as they used to because you've made your body think it could be starved at any moment so it has to store fat for later.
Love the body you have. It's a beautiful thing. Make it as healthy as you can, and it will be more beautiful. But that has nothing to do with the scale.