Starting over 09/24/08
Wednesday, September 24, 2008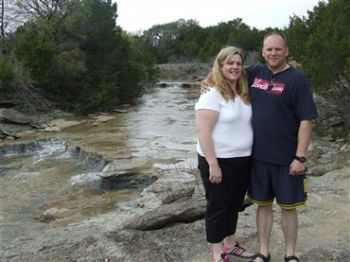 Hello: I have really changed in weight in the last 9 months. Due to RSD pain, and taking neurontin, I have put on my 25 lbs , as a side effect to neurontin in having a " belly pad".
My Dr has told me I need to choose to get off medication ( that is holding my pain to a reasonable level) too loose this fatty belly pad, or stay on it, with reasonable weight loss issues. I choose to stay on Neurontin at this time, and have changed my ticker to reflect the 25 lbs I gained in the last 9 months With RSD- exercise is almost impossible.
So I will become active in charting my nutritional intake.
I also have chosen to return to some posting, as my sitting at computer is limited by my pain pills . I am having superior fogginess.
Above is my step daughter Valerie and her husband, Jerry who was injured in the army. after 6 months of rehabilitation, he is home now - progressing. praise God!
Sandi