How to get going again!
Thursday, September 25, 2008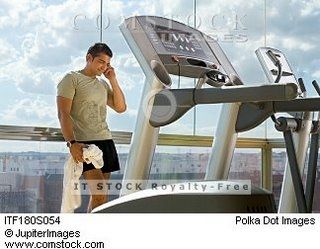 So I have a new trick. And not the "Hey, lemme get your number so we can do this again sometime" kind.
This summer my schedule was wacky, and while I kept up with running and swimming pretty often, I had a hard time getting into an actual gym. We all know once you break the gym schedule, it takes a LOT of momentum to get yourself back in. I've had my very expensive University recreation membership since mid-August, and in mid-September--while I had been running several times that month--I still had yet to go to the facilities.
I decided to try something new. I really hate flaking on appointments, and feel huge amounts of guilt in doing so. However, I also like to do my own thing at the gym, so a regular gym buddy might get annoying. Last week I started texting chunks of people in my phone around 7am Mondays, Wednesdays and Friday mornings to say I'd be at the gym around 5 if they wanted to join me. Rather than make a set appointment, I left the door open. Then when I got home from school, I was motivated to quickly get to the gym in case someone showed up and was waiting for me. Its worked so far. Every day someone has been there at the gym when I got there, but most importantly, I've gotten to the gym. If there's a day when no one shows up--even better--I can do my workout in peace and jam out to my AMAZING three new workout mixes (one for cool-off/warm-up, one for high gear, and one for the strength/lifting stuff)!
This won't work for EVERYONE but it does work for me because of the strong social guilt component!