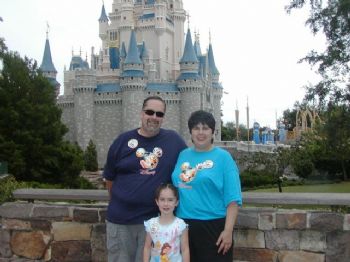 The trip began as a dream and the possibility of going in September 2008.
A family vacation, DH, DD and myself. I also have a grown son that isn't going with us at this time due to some scheduling conflicts.
These are the events that lead to making a dream come true almost a year early than planned.
Fast Forward to April 2007. It was Easter weekend. I spoke to my mom on Good Fri (4/6), and told her I have to work that night and again Saturday (4/7)afternoon so I would call her Easter Sunday (4/8)
Well Saturday I got news that she died it was very unexpected and a total shock to say the least.(She died of a peptic ulcer that was left untreated and hemorrhaged to death) A tragic death and very sad for all of us.
I wish she was here to go with us.
There is a song that gives me comfort when I think of her by an artist named Mark Harris- "I Wish You Were Here"
http://www.klove.com/lyrics/
lyrics.asp?2536
the song is here:
http://profile.myspace.com/i
ndex.cfm...dID=284 85205
The events that followed are still quite a blur as most things are when one loses a parent.
There is some happiness we then find out there is a monetary gift left to us (my sister and I) and with all the sadness I needed to do something to have some Fun, and laughter back in my life.
It just so happens that friends of our and many of our homeschool friends are headed to Disney the First week of Sept 2007... and I start to inquire about things and I am happy to say that it has been a blessing from the start.
(This was written on another blog)
Thus this brings us to our pre-trip report that in just 6 days (9/18) we will be leaving to go to WDW and arrive Sept 19-25.
It is Bittersweet as I am so excited and anxious to go but yet the sadness lingers knowing why I am going so soon.
The cast members are
Me-Valerie- 42
DH-Russ- 41
DD-Madison- almost 5
I have NEVER been to WDW, nor has DD but DH went way back when he was 16 yrs old and before Epcot opened so it will be exciting for him too.. I hope!
I hope too that he will be so AWE'd that we can go back again next year!!!
UPDATE: All I can say is WOW!
I can now see how some people go every year for vacation and if you plan it right and know when to go, it can be affordable!
We are so WOW'ed by it all and can't wait to go again as we are planning to go next September 2008
It is the Happiest Place on Earth!