Christmas season is crazy
Friday, December 21, 2007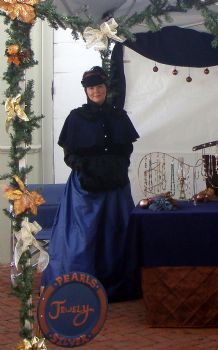 This is my first year on Spark during Christmas. It's insane. I haven't been able to keep up with my healthy eating or logging of my food/exercise. I feel quite discouraged and then, as I sit here eating donut holes, I read my friend's blogs (Slimfast Junky) and how great she is doing. It always puts spark back into my heart... I know I am a big disappointment to her sometimes but I am still here and still aware of what I need to be doing to change my eating habits. (I put away the donut holes for starters)
I look around and see- hershey kisses, hot chocolate, donut holes, candied popcorn, almond rocha (half of this my birthday presents) and just get disgusted. The healthiest thing on my counter is bread crumbs.
THis next couple months, neither of us have income coming in and it will give me time to workout and eat better. Exercise is free around here and I need to focus on things that are free.
I have been sailing and working with the sails a lot and am very sore. I know that I will lose weight and gain muscle with this new "excercise".
I am so much happier getting out and working with the boat, it is nice to have the christmas presents sent off and the birthday thing over with (as wonderful as everyone made it). I sailed on my birthday and the yacht club threw a dinner for me! A friend made me a lemon meringue dessert (i know- very bad).
My eating seems to be totally out of control again... I have yogurt and applesauce sitting in the fridge and the bananas went bad sitting on the counter. Stress is definitely my downfall to eating.
I want to kick this before I get too bad...