I wanna be like Mom!
Monday, December 31, 2007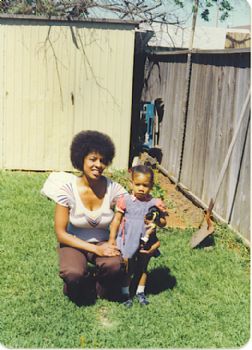 Happy holidays to everyone! I haven't posted a blog entry in a while.
My mother was here for Christmas from California. I hadn't seen her since January and she looks good! She had on a pair of jeans the other day and looked so slim! I told her it looks like she's been losing weight, but she swears she's put on some pounds and wears a 10, but would like to get down to a 6. Well she looks good to me! I'm hoping I've inherited some of her weight loss genes. hehe. But my mother has been an exercise and nutrition maniac since I was young. I remember she would get up at 4 in the morning and run up and down our stairs for 30 minutes or so...jump rope...and preach to everyone who would listen about eating their veggies. She still exercises by going for several walks around the marina every week and taking the stairs at her job whenever she can. And I kid you not, she packs RAW kale in little baggies and snacks on it at work like it's chips! LOL! She does have a sweet tooth, though, which I KNOW I inherited from her. But she does really well with eating it in moderation.
And I love looking at pictures of her "back in the day." I know she'd already had me (I also have a sister who's 11 years older than me - yes, I was a SURPRISE. :-) ) and she had this super super flat stomach. She looked really hot! She has had some weight losses and gains over the years, but 30 years later she still looks great! She's 61 now and still committed to treating her body well and looking her best. She's such an inspiration to me!
P.S. There's a current picture of the two of us in my photo gallery also.