A Getaway and a Spark Connection!
Monday, April 21, 2008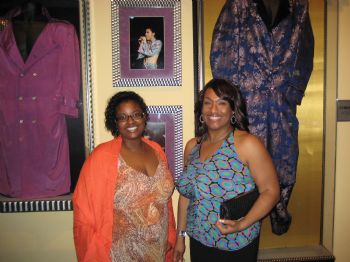 Netta and Mel at the Hard Rock Casino
What a wonderful weekend I just had!!!!!
Here is the Nitty Gritty Details For my GG's
Hubby and I flew to Fort Lauderdale on Friday morning for a quick weekend getaway. Our hotel was absolutely beautiful and was located across the street from the beach. We had a jacuzzi tub, terrace and a min-kitchen! We went to the Walgreen and bought healthy snacks and bottles of water (hey thats how we roll....splurge on nice hotel but save by avoiding overpriced hotel food.) We spent most of our day sightseeing down on Las Olas Blvd. and had lunch at a Seafood Restaurant (had grilled fish). I did have a yummy Patron and pomergrante margarita (just for you Sexy) and it was soooooo good! We finished our first day by renting a movie (Roscoe Jenkins...funny) and ordering a pizza from an organic pizza place called PizzaFusion. We had a veggie pizza on a multigrain crust. Ok the fat girl came out and I had to control myself because I almost ate the whole darn thang. Felt good to know that it was a "healthier" choice than a greasy pizza. Oh yeah we had a glass of red wine too...
On Saturday we got up at 6:30 a.m. and did 45 min. of cardio in the hotel gym (the machines were the bomb and had little tv's on each one!) and then went to the breakfast buffet. We made very healthy choices... fresh fruit, whole grain toast, scrambled eggs and coffee. We let our food digest for about 30 min. and then we went BACK to the gym and did another 45 min. of ST. Ladies, I worked it out..do you hear me? I was sweating like crazy and I hit all my major body parts. After that we showered and went out to sight see again. We took a water taxi down the "new" river and the intercoastal. We got a guided tour of the beautiful houses on the water and took a lot of pictures. It was really nice. After that we had lunch at a restaurant and had grilled tuna sandwiches and sweet potato french fries..ok I'm getting hungry just thinking about it.
Ok..after eating we decided to be adventurous and drive to Miami. We didn't realize it was only 30 min. away so we decided to go for it. We were able to walk up and down Art Deco Drive and had an authentic cuban Mojito and an appetizer (Cerviche - fish marinated in lime juice and some other stuff). We also realized that we may be too old and too broke to really enjoy Miami. It seems as though it is really for the young, beautiful and rich to see and be seen. After a few hours we headed back to Ft. Lauderdale to our hotel. Since it was our last night there we decided we had to get a little night life so we met Netta (ICANDOIT) at the Hard Rock Casino. It was sooo big! They had all kinds of bars, shops, restaurants and night clubs in a plaza attached to the Casino. We had dinner together and all made healthy choices (ok it is really cool when the whole table orders healthy...so much less stressful). Netta is such a sweetheart and my husband and I really enjoyed her company. She has some hilarious stories. After eating we went to play on the slot machines without too much luck. Our real excitement was watching a lady play high limit slots ($100 per pull) and seeing her hit for over $10,000. She didn't seem too excited about it though..LOL....I think she was used to it. After that we said goodbye to Netta and headed back to the hotel for the night.
The only bad side to our getaway was having a delayed flight home and horrible customer service from SpiritAir. We were supposed to be home by 5:30 and did not get home until 12:00 am. All in all I would do it all again!
Check my gallery for a couple of pictures from the trip...