Divas ... Challenge...Before photo
Monday, April 28, 2008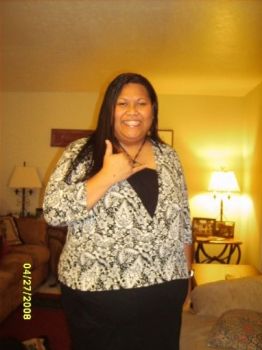 TALOFA EVERYONE!! I am ready for this challenge. I am on the "Divas in Training" team so watch out cause we're gonna win! no doubt about it! LOL!
My fabulous buddies are Tina, Shauna, and Sandy.
Here's my BEFORE picture .... ugh!!! I have alot to work on but for now, I'll be happy just to get under 300 lbs.
I currently weigh 335 pounds. My goal is to lose at least 60 pounds by October for this challenge. That's 10 lbs. a month. I will also watch my portions and eat a balanced meal with lots of veggies and fruits. Cut back on starchy food and eat more whole grains. Drink at least 8 cups of water a day. Also exercise at least an hour a day.
Let's do this!!!!! go Divas!!!!!