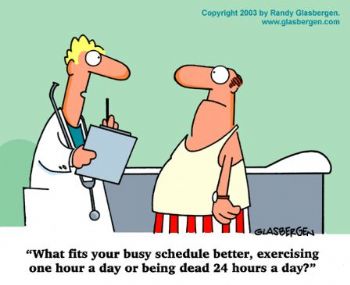 A friend sent this to me and it is soooo true and important for me to remember! Exercise is my biggest challenge because my schedule is always (and has always been) so busy and demanding.
I issue mini-challenges each week to my hometown team so in an effort to help other time-challenged people, I decided to post them in my blog weekly.
============================
=========
This week's mini-challenge is about T-E-A-M- WORK!
ARE YOU A TEAM PLAYER?
Teamwork is the absolute foundation for many successes in business. Rarely is a goal met with just one person pressing towards it on their own. Having a partner means you have a sounding board for ideas, a support network for failures, and a cheerleader when you are discouraged. Working together with a common vision and maintaining a successful relationship holds a greater probability for achieving your dreams! Compiling your efforts gets the job done.
Coming together is a beginning; staying together is progress; working together is success.
============================
=====
T-E-A-M MINI-CHALLENGE:
(Optional Visual) Place an empty "Money Jar" in your kitchen, office desk, car, or wherever you see it most. This jar will represent your challenges. Each time you triumph in a mini-challenge give yourself a coin or a dollar (or whatever you set-up for yourself.) If you like, subtract from it when you feel you should. See how full your jar gets at the end of our 10-wk challenge (mid-July.) Maybe buy a new Shirt or workout DVD or some other reward?
T = for THINKING - THINK about your choices and make note of them throughout the day.
(Give yourself a coin each time you say "no" to a bad choice.)
E = for ELBOW GREASE - Tackle something you've been putting off.
(Give yourself a coin -or coins- equivalent to how overcoming this task makes you feel!)
A = for ACTIVITY - Do something aerobic each day and try adding a "personal best" this week.
(Give yourself a coin for each Aerobic activity.)
M = for MOTIVATE - motivate someone with a Spark Goodie or Sparkpage Comment on their SparkPage.
(Give yourself a coin for each person you motivated.)
CHALLENGES ARE GOOD FOR US! They stretch us beyond what we might normally do on our own.
KNOW that you can do this!
KNOW that this is YOUR TIME to become healthy, fit (and envied!)
KNOW that if you really want something you will find a way-- the person who doesn't will find an excuse.
WE CAN DO THIS! WE ARE STRONG!
Camille
"Music City Motivators" Team Leader
============================
============
It's easy to say you're too tired, too stressed, too busy, too this or too that. Too bad. The only way you'll strip away the fat is to start by stripping away the excuses. -- Dr. Oz & Dr. Roizen- "You on A Diet"
"You may have a fresh start any moment you choose, for this thing that we call 'failure' is not the falling down but the staying down." -- Mary Pickford
For your weight loss goals to succeed, your main motivation should grip your attention like a new love. Your main motivation is the best reason you can think of for getting up, getting active and getting healthy. Do you know what yours is? -- Mike Kramer