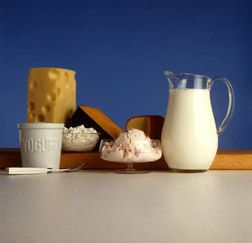 So, I went to the gastro doc yesterday. And I am "Officially" Lactose Intolerant... DUH! I have been telling him that for atleast 3 years! He is a wonderful doc but, sometimes he just doesn't listen and he has two strikes against him being male and a doctor. I love him but, Geesh, this one he dropped the ball on. Although, I was smart enough to drink Lactaid all these years anyway.
Simply stated, Lactose intolerance is caused by a deficiency of the enzyme, lactase, that is needed to digest lactose (milk sugar). Because it cannot be digested the lactose stays in the intestine and ferments - causing intestinal discomfort, including abdominal pain, bloating, gas and diarrhea.
All I had to do to be diagnosed was take a Hydrogen breath test. I had to drink 8 oz. of whole milk (Yikes), then 30 minutes later, I breathed into a tube that measured hydrogen from undigested lactose. Large amounts of exhaled hydrogen indicates that you aren't fully digesting lactose and that you're intolerant.
So, He wants me to cut out ALL dairy for 2 weeks to see if my symptoms improve. Yikes! I Love cheese! Oh Well. I have done it before. Recently, I have become obsessed with 1% Cottage Cheese, I don't know what the heck I am gonna do without it now.
Lactose Intolerance is extremely common. So, if you experiencing any of those symptoms, ask your doc to test you for Lactose Intolerance. Your colon will thank you!
This concludes another Public Service Announcement from Gab.
Oh and my insurance company approved the camera colonoscopy so, I am gonna do that next week. My digestive track is gonna be on film! I want a copy to Youtube it??!!