There's a new sheriff in town!
Saturday, June 21, 2008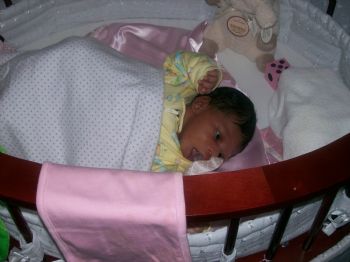 That's right.....and her name is Alyssa Danielle Williams! Alyssa, the newest arrival and fourth child (3rd daughter) in my squad, was born on Wednesday, June 4, 2008. She weighed 7 lbs. 5.6 oz. and was 20 1/4 inches long. Believe or not, she was the smallest of all my kids. The other girls were 8 lbs. and some change and my son was 10 lbs. and change. Yeah, he was practically a toddler at birth. LOL.
The older siblings are absolutely crazy about there little sister and she has certainly stolen the hearts of her mom and dad. I think she's already spoiled rotten......and she's only 2 1/2 weeks old.
She's the new sheriff in town and we are finding ourselves having to adjust to her "rules" especially when it comes to sleep (or lack there of)! Can a 2 /12 week old really have rules?!
LOL.
Hope you enjoy the pics of her. Daddy's girl......YES!