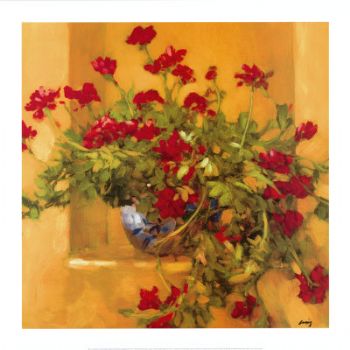 I wrote the last blog on Thursday and today is Saturday and I STILL feel good! God is sooo good to me. I do not know how he puts up with me, but I am so super glad He does!
I am reading a book called the Best of Barbara Johnson which actually has three of her books in one. I am in the middle of reading Stick a Geranium in Your hat and Be Happy! the next one is Splashes in the Cesspools of Life and last is Pack up your gloomies in a great big boa, then sit on the lid and laugh. From the titles it may appear as if she is saying ignore life's problems, but you have to read the book to see that its not. ANYWAY, in one of the chapters, I read a paraphrase of 1 Corinthians 13, and I want to share it with all of you...
BECAUSE GOD LOVES ME
(Based on 1 Corinthians 13:4-8)
Because God loves me, he is slow to lose patience with me.
Because God loves me, he takes the circumstances of my life and uses them in a constructive way for my growth.
Because God loves me, He is for me. He wants to see me mature and develop in His love.
Because God loves me, he does not send down His wrath on every little mistake I make, of which there are many.
Because God loves me, He does not keep score of all my sins and then beat me over the head with them whenever He gets the chance.
Because God loves me, he is deeply grieved when I do not walk in the ways that please Him because He sees this as evidence that I don't trust Him and love Him as I should.
Because God loves me, he keeps on trusting me when at times I don't even trust myself.
Because God loves me, He never says there is no hope for me; rather, He patiently works with me, loves me and disciplines me in such a way that it is hard for me to understand the depth of his concern for me.
Because God loves me, He never forsakes me even though many of my friends might.
Because God loves me, he stands with me when I have reached the rock bottom of despair, when I see the real me and compare that with his righteousness, holiness, beauty, and love. It is at a moment like this that I can really believe that God loves me.
Yes, the greatest of all gifts is God's perfect love!
- Source Unknown
That says so much and when I first read it... it really touched me! I know with God I can move on, dealing with unresolved issues and He will always be my safety net!
Anyway, tonight is the fireworks in our town and I hope they are as beautiful as ever. I dread walking that hill again, but Jonah says I need my "EXTRAcise". I told him I was trying to LOSE the extra size, LOL!
Hope everyone is still having a great weekend and to my friends on vacation... miss you, but hope you are truly enjoying this time away and the time you are spending with family and loved ones.
Have a great one!
Shannon