I am doing good!
Friday, July 11, 2008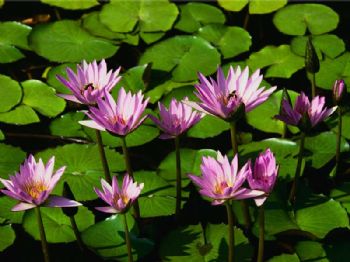 I put in some extra effort to stay on program and as a result I reached my latest mini goal of 25 pounds more off. The really exciting part is there are only 25 more pounds left for me to get off to reach the seemingly impossible goal dreamed when I first started! My total weight loss now is 125 pounds off. My next mini goal is to continue to give my best efforts until the end of Aug. and then to evaluate if I'm happy at that time because I'm really REALLY ready to start having some solid food back. ( I've been on prescription liquid protein shakes for 11 months... for health reasons I needed rapid weight loss) My biggest challenge lies ahead...learn to eat correctly and hold my weight steady. I'm ready, I'm active and exercising and I've got this wonderful weight loss for incentive. I am already happy with the weight I have off. The good Lord seen fit to schedule a vacation into the time frame here so I'm working around that and postponing the transition back to food until I am back from vacation. It works well with the last effort to do well to know that I set a limit on how much longer and give myself this time to get closer to the "impossible dream goal". For all interested, I would do this again to lose weight in a heart beat! When I was stuck so bad with the weight burden, the health threat issues and the yoyo diet effect and I just did not believe I could loose that much on my own and I knew I couldn't do it and keep it off too. So what's the use of trying. Right? This was an answer to prayer. It took me 2 years of thinking it over, 2 years living with fears, 2 years of being in a state of anger and depression before I got mad enough, sick enough, and hopeful enough to try it. Now I WISH I'd have done it 2 years ago when I first learned of it. My love of food kept me in that burdened state of unhappiness for two extra years because I didn't think I could make it on a liquid diet without any food. I regret how long it took me to say yes to start this special offer from my doctor. - I'll end this with a funny little tale. I recently bought a 40 pound bag of sunflower seeds for my bird feeder. The store loaded it for me. when home, I popped the trunk and proceeded to try to remove the bag of seed. I pulled, and lifted, and did everything I could with all my might and I couldn't budge that bag of seed! Just think, that only weighs 40 pounds I told myself and you've lost the equivalent of three of those bags in one! Now, just think of how much you were lifting and carting around with you every step of everyday! You better believe I will keep this weight loss a high priority to maintain because I know for me there is no end to how much can come back on if I eat what I did before.
Wishing all of you success at healthy choices for you.
A spark ember glowing for you,
~SillyCecelia