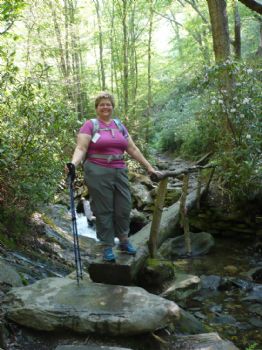 I signed up with a group of 16 women to hike Mt. LeConte in Gatlinburg, TN -- the second tallest peak East of the Mississippi.
One of my goals before I went was to lose 50 lbs. I met my -50 lb goal on Tuesday's weigh-in just 2 days before we left on Thursday.
NOW... I'M BAAAACK!!! I DID IT!!! My FIRST-ever hike!
It was a challenging 5.5 mile Mountain Hike Incline and took me 7.5 hours to get to the top (including lunch stop.) And 6 hours down. I could have made it faster but I wanted to take photos for future paintings. I did pace myself. Others made it up in 5 & 6 hours.
Yes, it was very challenging and very cardio but I will DO IT AGAIN!!! I trained hard for it and my training paid off. I was the most overweight hiker. Many of the women were saying how they did not realize how difficult this would be... but I was prepared for the difficulty.
My muscles feel great, my calves are probably the sorest, but honestly, my trainer worked me much harder my first 30 minutes with him. My track shoes fit perfectly and I did not have one blister!!!
My only problem was that for lunch on the way down I sat on a tree root for quite a while and the sap soaked through my hiking pants, through my panties and onto my back-side. I was quite sticky! When we got down, I put toilet paper on the toilet seat of the restaurant and the sap even bled through onto the toilet seat... and the toilet paper stuck to my behind!!! LOL!!! I had a papier mache back-side!!! I had to go the the store to get some special remover to clean it off.
(Okay, that was over-sharing, wasn't it?)
The accomplishment feels GREAT!!! And now I'm hooked... I want to do more!!!