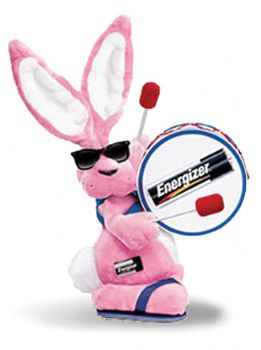 It started wednesday and has kept going and going and going.... and going and going and going.... :) It hurts to even LOOK at that bunny up there!
Anyway, i have had to slept alot to get relief etc...,so that is why you have not seen me blogging or doing very much.
Anyway, I went to the doc today and he said it was some kind of weird sinuses, big long word I do not feel like googling right now to figure out how to spell....
So, he gave me Lodrane twice a day for 7 days and Biaxin twice a day for 7 days. Lodrane is to open sinuses and Biaxin is an antibiotic and he gave me Talwin for my headache. However, since I still have to go to counseling today, I cannot take the talwin yet. He said when i took it to just take, it, go to bed, let it knock me out and when i wake up the headache should be completely gone. He gave me 14 and i can take one a day if needed, but he said if I take a couple of them and it does not leave, to call him.
I also mentioned my insatiable craving for salt and he did some blood work, so i should hear about that this evening sometime or tomorrow. He is checking my sodium, potassium and electrolytes...
So, there you have it. If you are on one of my teams that know about the headache and you read this, please let the team-mates know I have blogged about it, as it is MUCH easier than going to every post and repeating myself...
Going to counseling here in a few minutes, then coming home, taking that medicine and getting my butt to bed. see ya'll tomorrow.
Shannon