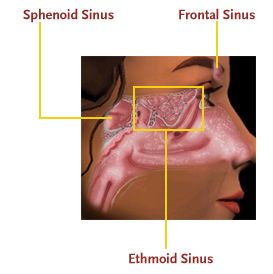 "Although the sphenoid sinuses are less frequently affected, infection in this area can cause earaches, neck pain, and deep aching at the top of the head.
Other symptoms of sinusitis can include fever, weakness, tiredness, a cough that may be more severe at night, and runny nose or nasal congestion. In addition, drainage of mucus from the sphenoids down the back of the throat (postnasal drip) can cause a sore throat and can irritate the membranes lining the larynx (upper windpipe). "
healthlink.mcw.edu/artic
le/946414028.html
Well, I do not remember having a sinus infection this bad before, but apparently I have it in several areas... do not have a cough though and the way the doc talked when it is in the "sphenoid" area, it can cause alot more pain and discomfort.
Anyway, this explains the extreme weakness, sore throat at night where I have to constantly drink water, the pain on top of my head, etc... etc...
There is more good info on that page if you are so inclined to read it, but I did not want to post the entire article.
Anyway, I am going back to see if they list anything I can do for relief besides what I am already doing....
Love you guys,
Shannon
Sphenoid Sinus
Deep within the skull behind the ethmoid sinuses are the sphenoid sinuses, small cavities approximately the size of a large grape. The right and left sphenoid sit next to each other, separated by a thin "septum" or plate of bone. They drain their mucus into the very back part of the nose through a special opening, or otium. Critical structures such as the nerves for vision, and major vessels that carry blood to and from the brain lie in close proximity to the sphenoid sinuses. Therefore sinus disease, as well as surgery in the sphenoid area, carries special risks.
www.myentphysician.com/s
cripts/content/anatomy/ind
ex.php?doctor=davidson