My Vacation Strategy
Thursday, July 31, 2008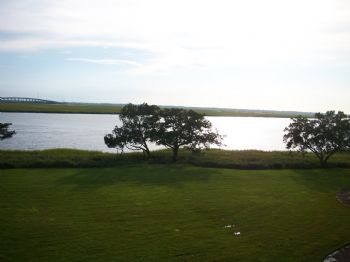 Okay, so I am leaving this Sunday for a Womans Seminar with my church. I am on a roll with eating heathy, using my tracker and I LOVE everthing about SparkPeople...its what is keeping me going. So I have this trip and I don't want to first of all, loose focus or momentum so I have come up with a plan of action.
I attached a picture of what this place looks like. We are going to Saint Simons Island Georgia...I was there last June and I have to tell you, it is BEAUTIFUL there! Now granted I won't have my multi-million dollar fitness center but why should I let that stop me!! I have 2 feet, good running shoes and a GPS Pedometer. I am gonna hit the ground for a week. Is there a better way to connect with a beautiful place than to go out and emerse yourself in it.
Thank GOD they have internet access, so I will be able to stay on my Sparks page, and I am packing my jumprope and exercise bands too. Hey...I will do whatever I need to do to stay on point with my exercising.
As far as food goes...okay...so we ate there last year all week...the food wasn't bad, they offer healthy choices, NO soda and a nice salad bar, so the food doesn't concern me.
This is really exciting for me because I am actually going here with a plan and not saying "ah who cares...I'm on vacation". I am realistic about my exercise expectations too...we are walking between the hotel and where we are meeting, so that is added exercise.
I look forward to getting back and sharing my results with everyone.