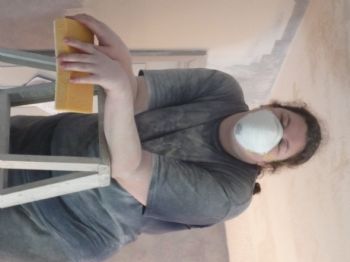 My daughter helping... covered in sheet-rock dust!
Just an update --
It's been a challenging year! I've since lost 54 lbs and 31.5 inches... Really concentrating on my health this year to avoid diabetes.
PLUS-- Before my daughter's January wedding, our house begin to fall apart, you would think we'd had an earthquake or something. We've been under construction since January and living with our house looking like a storage unit. BOTH tubs were cracked; shower cracked; toilets no longer functioning efficiently; then the week before the wedding our large 8-ft mirror fell off the wall and shattered. We HAD to begin the construction to repair before more serious sub-floor damage occurred.
At this very moment, our bathroom fixture refinishers are here. We're having our old Jet Tub refinished from Grey to White. We had them quote the cost of refinishing the other tub/shower + crackled cultured marble sink coated... since they are already here, it will save us money to go ahead and do it. The new sink will have a Corian-type appearance when finished, a gold color with white flecks in it. Both the tubs/showers are being refinished white and our new toilets are white.
Last night I won two auctions on eBay for new sink faucets and tub/shower faucets. It's all about price right now... I would prefer a brushed nickel... but the polished chrome was more reasonable and I saved over $100.00!!! (Now I have to return my previously purchased brushed nickel fixtures to Lowes, get my money back.)
If it's not one thing, it's another... We ripped up the carpet in our bedroom last weekend to prepare to order new carpet and Audry's foot went through the floor... We've discovered serious water damage possibly from a leaking outdoor light fixture. I am going crazy!!!
All this to say -- I am completely overwhelmed at the moment. Each week that passes I hope to get my life back then something else more serious seems to occur.
My husband, Todd, left on his 4-day church retreat (reluctantly, we neither of us have time to take off). I've been busy calling plumbers and glass contractors for quotes on the other repairs. While Todd is out of town I must shower at the gym. Until I can get my tile sealed, our new shower is off limits. At least I have a working toilet now!
Whew! Life -- what a ride!!!