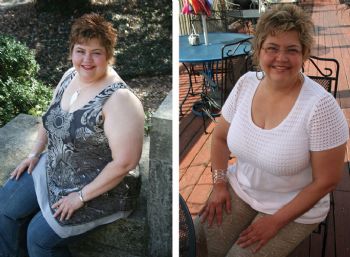 -
THIS IS MY NEW "BEFORE/DURING" PHOTO--
Weight Loss to date (Sept. 18, 2007 to Sept. 30, 2008):
-58.3 lbs and 31.5 inches -- Yay!-- (wt: 290.5 to 232.2).
Urban Active, the gym I belong to, asked for a photo for their files. They said they wanted to submit me to corporate to become a "poster child" for their training department because I was the top loser in their training department. I had this photo taken yesterday and placed it side-by-side with a photo taken 2 years ago... I also uploaded it onto my SparkPage to share with the SparkNation.
NOTE: Look at my hands, in the same position on my thighs in both photos... isn't it amazing how much closer together my hands appear in the new photo taken yesterday? The "before" photo was taken 2 yrs ago in an attempt to get on the "Biggest Loser" T.V. show... it took me another year to get my act together and determine to lose this weight on my own.
I've lost all of my weight with Spark People thanks to the BLC4 - 5 - 6 - 7 -- 12-week challenges*, 12-weeks at a time, since last September '07... YAY!!! The new challenge begins Tuesday, Oct. 7th- Dec. 30th-- just in time for the holidays. I actually LOST WEIGHT last holiday season thanks to this great motivational challenge.
So, I really desire to lose and want to remain accountable during these upcoming "eating" holidays! Accountability makes so much difference! I don't want to gain that holiday 10 lbs-- my goal is to maintain or lose this year as my gift to myself!
~~~~~~~~~~~~~~~~~~~~~~~~~~~~~~
~~~~~~~~~~~~~
*To join the BLC8 12 WEEK CHALLENGE OCT. 7TH- Dec. 30!
ACT NOW! Open enrollment for our 12 week challenge CLOSES on Oct 7th!!! Then the team goes private!
Keep yourself accountable through the Holidays!
Weekly weigh-ins with your individual colored teams every Tuesday, plus daily posting as you bond with your individual colored team. Group challenges weekly, plus fun challenges thrown in. If you are interested, use the link below to visit the team. Please read the rules and other important challenge information. If you like what you see, JOIN THE TEAM and post the requested information in the NEWBIES thread.
www.sparkpeople.com/myspark/
team_mes
sageboard_thread.asp?board=-
1x26028x18
712920
Hope to see you there!
Don't Delay...Limited Space Available... This Opportunity is open to the Public for a very short time. Team will go Private Oct 7th.