Getting Back on the Wagon
Monday, October 06, 2008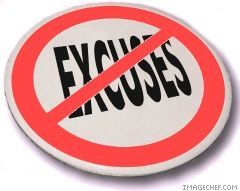 Getting Back on the Wagon
It happens — you miss a few workouts and you feel like your weight-loss plan is totally derailed. It's tempting to mentally slap yourself around, right? Before you start, I want you to remind yourself of something. Being hard on yourself is the Old You.
The New You knows how to deal with setbacks and get back on the wagon. And after all, there are no mistakes, just learning experiences. Weight loss is a process — it takes time. You will encounter small failures — everyone does — but every pound you gain can be lost.
And if you miss a workout, it's not the end of the world! Get to the gym the next day and continue to focus on your short-term goals. Just because you made bad choices today doesn't mean you can't start over tomorrow. New day? New beginning. And don't you forget it.
I know that I beat myself up all the time..So this makes me look at things differently... I hope you guys do too.
Have a Great Day!!
"It's easy to say you're too tired, too stressed, too busy, too this or too that. Too bad. The only way you'll strip away the fat is to start by stripping away the excuses." -- Dr. Oz & Dr. Roizen- "You on A Diet"