Explaining My Profile Photo
Friday, October 10, 2008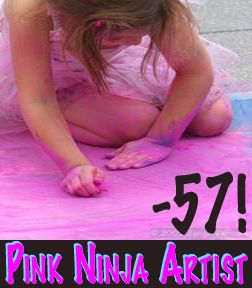 One of my dear Spark Friends, Maya, recently commented that she wondered about my profile photo... people who have known me on Spark for more than 4 months are used to seeing my face as my profile.
I am a POWERFUL PINK NINJA on the Biggest Loser Challenge #8 (a private challenge that encompasses over 600 Sparkers.) Everyone on the PINK team had a profile reflecting the team name so in order to adopt the team spirit and enthusiasm this wonderful team exudes, I searched photos for all things pink. Since I am an artist, when I ran across this little Chalk Artist covered in pink chalk, I said to myself "she is perfect!!! This is exactly what I looked like as a child, covered in my art supplies".... thus, the "Pink Ninja Artist" profile photo.
The BLC challenges have been the BEST thing for me and my weight loss. I've lost all of my weight 12-weeks at a time through these challenges since my beginning in September '07.
I began as a Golden Gladiator for three rounds (rounds 4-5-6) and made wonderful long-lasting friends on that wonderful team. I then moved to PINKS in round 7 in order to shake things up a bit and make new friends-- and it was a GREAT DECISION for me!!!
My PINK sisters are some of the BEST, ENTHUSIASTIC and POSITIVE influences in my life! This team, along with my Nashville Team, and those of you who have been faithful Spark Friends are who I think about each day when faced with a challenge! I pray for you each and every day and am so very grateful for you and your role in my life.
I apologize that I haven't been on much.... I've 13 days before my show and still only 3 paintings finished so I am in panic mode. I'll catch up with everyone in November... but know that if you are reading this, I LOVE YOU and am praying for you each time I sit at my easel and spend time in quiet contemplation.
You are the BEST!!!
Decide what you want, decide what you are willing to exchange for it. Establish your priorities and go to work. -- H.L. Hunt