Ma and Pa
Thursday, October 16, 2008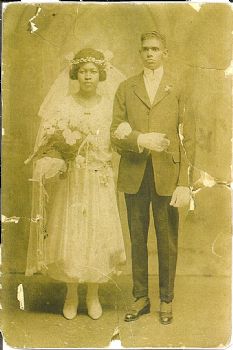 Pa is what I called my grandfather (Francisco). Ma would have been what I would have called my grandmother (Marie) had I known her. Unfortunately I never had the pleasure of knowing her.
I decided to write about my grandparents because I have gotten so many compliments about their picture on my profile.
My grandfather came to America many years ago on the Schooner Ernisteina from the Cape Verde Islands. He wanted a better life for him, his wife and one child at the time.
He started working in a shoe factory almost instantly of getting on American soil. My grandmother cleaned houses and pressed clothes. My grandfather also worked other factories as they decided to have a growing family.
Him and my grandmother ended up having 13 children in all. Unfortunately when my grandmother was 36 she caught pneumonia. Back in the day they did not have the medicine and treatments that they have today. My grandmother passed away from the complications of the pneumonia. My grandfather was devastated as was everyone else in the family. Back in the day the first thing to do was the oldest child was to take over as head of house hold. That was my Aunt Clara and God rest her soul she did a wonderful job bringing her sisters and brothers up. Unfortunately 2 weeks after my grandmother died my father had to bury one of his own children, my Aunt (Val) who had started complaining about headaches. She didn't go to the doctors as not wanting to burden the family with any more worry. After all, they just lost their mother. Little did anyone know she had a brain aneurysm. She laid down and never woke up.
I always thought of my grandfather as a strong willed man. I don't know how he did it, raised 12 children, went to work, put most of them through college while others went into the service. My aunt worked in a fish house and cleaned houses trying to take care of the ones that were still to young to go to college or be in the service. I think my aunts and uncles that went into the service did so because they did not want to be a burden on my grandfather.
My grandfather lived with my parents during winter months (summers were spent with another daughter in New Jersey) as he got older in age. He taught me the different Cape Verdean languages. Actually I really did not have a choice because he did not like to speak english lol. My grandfather never re-married after my grandmother died. I am not sure why. I know he had what he called lady friends but deep in his heart he knew no one could take my grandmother's place. He died in his late 80's very happy of his life and family. He was proud of all his children and the things they accomplished. My grandfather and grandmother (even though I never met her) will never be forgotten.
They were the true love that started the family that I have today that still grows with love, honor and dignity.