Tristen Michael is here!
Thursday, October 23, 2008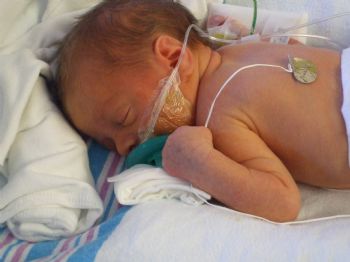 Well I can't believe he is here already. Born 5 weeks early on Oct. 17th at 5:53pm via c-section. He weighed 4lbs 12oz and was 17 3/4 inches long. While it wasn't easy because as of 5 days later I have yet to hold him due to him being early he had to be hooked up to all kinds of different machines and what not and then needed to be transferred to a different hospital 30 min away from where I was. I also had my own problems to where I had to have another surgery done on my band just 4 days after my c-section. So needless to say it has been very rough these past 5 days but on the brighter side of things he is being transported back to the hospital closer to home so I can see him in the morning and I will be able to hold him for the first time I am so happy and can not wait! And even better news is he should be coming home in a few days I'm keeping my fingers crossed.