Now here's a little story I've got to tell
Sunday, August 26, 2007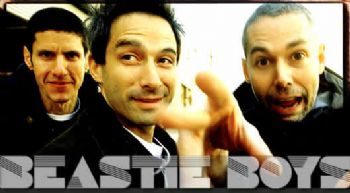 The concert was fabulous, we had such a great time!! Even though I was stressed to the max for most of the day because I hate not knowing exactly when we are leaving, it was such a great time, had a few drinks, ate Blondies Pizza afterward, and went to a club for an after party where there wwas an awesome DJ spinning old school rap OMG it was such a good time!!! Here's a little write up I found...
The Beasties looked like the feds from "The Untouchables'' when they took the stage on Saturday night, but, in spirit, they were wearing their old school tennis shoes and athletic gear. From the moment Mix Master Mike took the stage and began warming up the turntables, imploring fans to (of course) raise their hands in the air and wave them like they just don't care, the hip-hop party was on.
The Boys threw down some deliriously entertaining raps, mixing their voices as fluidly as ever, as they proceeded to hit the crowd with such '90s era cuts as "Sure Shot,'' "Body Movin''' and "Root Down.'' They also touched upon their punk-rock side, to lesser effect, and did a fine job with the handful of instrumentals.
Yet, not surprisingly, it was the older material that really had fans ready to fight for their right to party. The crowd members sang along at the top of their lungs to such all-time favorites as "No Sleep Till Brooklyn'' and "Brass Monkey.''
The lasting impression was that of the crowd handling the lead vocals on "Paul Revere.'' As 8,000 fans recited the song's lyrics, as steadily and easily as baseball fans say "Take Me Out to the Ball Game'' during the seventh inning stretch, the band that once seemed destined for one-hit wonder status now appears headed straight for the Rock and Roll Hall of Fame.