My wonderful weekend!
Monday, December 17, 2007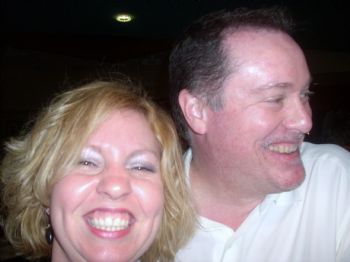 So I wish I had a picture of the dress because it was wonderful having people tell me how great I looked all night, people that have not seen me since I put on all this weight telling me how gorgeous I was... LOVED IT! There are pictures running around, so if I get my hands on one I will definately post, everyone was taking pics of us though. The picture above is one that I took of us when we were in line at the bar, not the best picture, but I told Kevyn he has been a part of my life entirely too long for me to have only one picture of us. On Sunday I went top breakfast with Mary and Jason, friends from High School that I haven't seen in YEARS! They are both thinner than they used to be and I'm fluffier, but other than that, it was like time had stood still for us. I love them both SO much and we have vowed to make it a regular habit even though they are both 2 hours from me in opposite directions. Went and visited Mary's mom in the hospital. She has diabetes and her kidneys are failing. This woman had been like a mom to me growing up (even though she did forbid Mary to hang out with me twice because I was a bad influence HA!). I hate that we are at the age where we are losing our parents and our friends. I miss the 80's. It was a wonderful weekend though, and the only one I have ever blogged about.