A little more hopeful today
Wednesday, January 09, 2008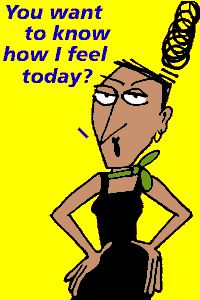 I'm feeling more optimistic about getting back on track. I don't think I'll feel too good at all until I get below 220, though. There was a thread on the community board that asked if I let the scale rule me. The answer is definitely YES!!! But that's ok. Whenever I don't let the scale bother me, my weight goes up 20 pounds or more. So I'm going to continue to weigh myself everyday, fully knowing that there are fluctuations based on water retention, PMS, etc.
I got day 1 of my 12-week challenge done! Success!!! I want to keep this up for the whole challenge. I know some days will be better than others, but this is my focus for the next 12 weeks; everything else, housecleaning, etc. comes second (except for my kids).
I started at 225 on Monday, and this morning I weighed in at 221.6 Hope this will continue!