Cookies...
Wednesday, January 09, 2008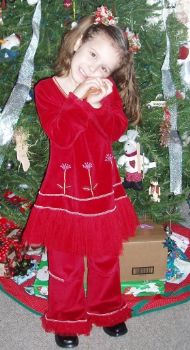 Okay..she has nothing to do with cookies, but she's so sweet and I just wanted to see her picture. I wuuuuuuuuv her. ;-)
So today I did so-so with eating...no exercise, but I did a lot of laundry & cleaning and I can't overdo it. I did accomplish one BIG thing though--the kids wanted chocolate chip cookies after school today, so I made some, and I only ate ONE. I was just a LITTLE tempted to eat more, but I controlled myself.
Sweet, huh?