Two days out of town & the wine train, I coulda done worse
Saturday, January 19, 2008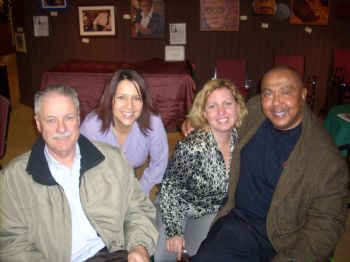 Thursday morning I started my day with soy milk and oatmeal and then went off to meet someone that I haven't seen in almost 20 years and it was WONDERFUL. He made brunch, and I had fruit juice and a frittata (made with whole eggs EEEK) this was a first for me this year, felt slightly guilty, but didn't add cheese or salt and was just so happy to be with an old friend that I got over it pretty quickly.
Off to Napa, my heart rate is up because I just know I'm going to be late for my meeting and I hate being late! Turns out there were so many people running late they decided to start at 1pm, which meant I was 27 minutes early!
Dinner was on the wine train, wine is fruit, right? hahahaha So I had some fruit, and my appetizers were fresh steamed veggies with a bit of bread (another first for me this year) and the entree was a flan with steamed veggies in a fennel reduction sauce (ate two bites of the faln, I have never liked it and nothing has changed. The veggies were good, and I expected not to like the sauce, but it was delicious!) and then I had my first creme brulee ever. It was decent, but doesn't taste as good as the Body Shop lotion smells. Later that night when I had major munchies (brought on by the wine, no doubt) I was happy that I had an apple sitting in my refridgerator. It was the best apple I have ever had hahahaha
Woke up the next morning, had eggs and potatoes (another first this year) with fresh fruit for breakfast. Tortellini salad (first pasta this year) with artichokes and romaine with lemon juice and tomatoes for lunch. Then went to dinner with Kevyn and was completely awful at La Morenita. I was 198 before I left on my trip, and don't even want to look at the scale til weigh in on Monday.