Snow in Mississippi!
Saturday, January 19, 2008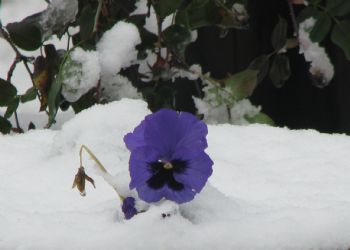 What a rare treat we woke up to this morning -- a fresh blanket of new-fallen snow! Our weather forecasters here in Mississippi totally missed the prediction -- we were told by them it would only snow in North Mississippi and not down here in South Mississippi where I live; instead, the opposite happened!
The snow reminded me so much of a scripture found in Isaiah - ..."though your sins be as scarlet, they shall be as white as snow...Isaiah 1:18." There is not a white comparable to that of snow. I remember one time years ago when it snowed (probably the last time it snowed here in Mississippi, in fact), and our white husky dog was out frolicking in the snow. In contrast to the snow, our dog looked a dingy grey.
Just goes to show that many times unexpected blessings are the best ones!